Our Team
Semir Bakija
Semir Bakija is Medical director and Senior physiotherapist at Get on Track. His experience in Dubai spans more than twenty years.
He served as a Senior Physiotherapist, in the Physical Medicine and Rehabilitation Department at Rashid Hospital in Dubai (UAE) for 15 years before he established his private physiotherapy clinic Get on Track.
Semir is certified as an MLD and CDT therapist by the Foldi College Hinterzarten Germany. Recently he was certified from the Joanneum University of Applied Sciences as a Trainer of Trainers in Complex Decongestive Therapy, to be the first in the Middle East.
Moreover, he is an international instructor for the 'Jenny McConnell' courses in the Middle East and East Europe and a regional instructor for the Medical Taping Concept for TapeConcept Ltd.
Semir is qualified and has the experience to treat musculoskeletal and neurological patients of different ages. His approach initiates with a thorough assessment, aimed at identifying the underlying causes of the patient's symptoms, then he tailors a patient-centered plan in order to deliver the best treatment and achieve the desired goals.
Nedeljko (Ned) Radomirovic
Nedeljko Radomirovic – Ned, Senior Sport Physiotherapist from Serbia and a proud member of Get on Track since May 2012.  He graduated from College of Sport and Health – Belgrade in 2007.
His main area of interest are all sport related injuries and traumatology in general, but special interest is reserved for the biomechanics of human movement , foot/ankle and knee rehabilitation. Manual therapy and hands on approach is Ned's way of treating patients.
He is certified Golf Fitness Specialist by the National Academy of Sports Medicine (NASM® US) and, as well as couple of other Get on Track members, is trained for foot orthotics casting/impressions. He completed many professional courses like: Advanced Course In Mulligan Techniques, Kinesio-medical taping, Myofascial release techniques, Functional Fascial Taping, Clinical Neurodynamics, Dry needling certification and a Diploma in Complete Decongestive Therapy by Joanneum university of applied sciences in Austria.
Rima Shalhoub
Rima Shalhoub, a physiotherapist who has been working for the past 2 years, concentrating on manual therapy.
Her interest in developing as a manual therapist continues by attending different courses and mixing different effective techniques like Mulligan Manual Therapy Concept, Kinesiology Taping, and Dry Needling.
Also, Rima has delivered treatment for acute sports injuries at several well-known sporting events, including Spinneys 92 Cycling challenge and Emirates Airline Dubai Rugby Sevens.
Jumana Qaqish
Jumana , an experienced musculoskeletal physiotherapist holding a Masters degree from Sheffield Hallam University (UK).
Her main area of clinical interest is treating spine disorders and postural deformities. She is qualified in multiple Manual therapy Techniques, which she combines with Therapeutic exercises in her treatment plans. Jumana is also certified in Schroth Method treatment for Scoliosis (Adolescent Idiopathic Scoliosis specifically).
Jumana joined Get on Track in Feb 2013 where she commits to practicing to the highest professional standards. She has the heart to help people get better and she believes that each patient is the therapist of him/herself and she is there to hand the patient the right tools.
Tanja Dobrijevic
Tanja Dobrijevic graduated from Medical school as a Physiotherapy Technician, in Novi Sad, Serbia in 2007.
She is a certified Lymphedema therapist by Foldi College in Hinterzarten, Germany. She has been successfully treating patients with different types of swelling conditions using manual lymph drainage or complete decongestive therapy techniques (CDT).
Tanja is also a licensed massage therapist who specializes in therapeutic (medical) massage. This includes focusing on a problematic area such as neck and shoulders while also addressing the whole body for stress relief. She is also experienced in other types of massage like sports, Swedish, deep tissue, relaxation, and prepost pregnancy massage.  Her main interest is the well-being of her patients. She also gives them self-care suggestions related to her diverse background in health care.
Iuliana Tunaru
Iuliana Tunaru is a licensed massage therapist at Get on Track. She joined the team one year back and already established herself as a valuable member of GOT team.
Iuliana has more than 20 years of experience. Her specialty is reflexology, Swedish massage, foot, hand and head massage.
She completed her education in Romania and she is a holder of many certificates in field of massage in addition to the diploma.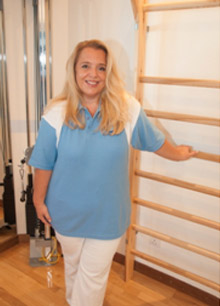 Daniella Fleckenstein
Daniella is a Physiotherapist from Germany with more than 25 years of experience. She is very passionate about her clients to get the best benefit. She combines traditional physiotherapy techniques with alternative medicine.
Her main expertise is in Musculoskeletal field. She holds a degree in Manual Therapy, Cyriax, Mulligan and Trigger Points. She is also certified Manual Lymphodrainage and CDT therapist.
Sandra Koder
Sandra is a Health & Wellness Coach and proud member of Get on Track since 2015.
In 2006 she graduated from the Private sports school "Glucker Schule" (prestigious school in the Stuttgart – GERMANY, who are already committed since 1923 to train young people to become competent sports and gymnastics teachers) and become registered Group Fitness Instructor, Mind Move teacher and Personal Trainer.
Prevention, Rehab and Health programs are her specialties, as well as balance, proprioception and coordination training with XCO and FLEXI-BAR and Technogym Ambassador for UAE.
Sandra's vision is to support people around the world to get stronger, more balanced, to feel light and free in their own bodies and to become the best versions of them selves.
As part of Technogym educational team, she was in Rio supporting the athletes and their coaches, doctors, physiotherapists, and physiologists from all over the world at the Technogym fitness facility of the Olympic village.
She has also contributed (as a Technogym Master Trainer) to the UAE's Health and Fitness magazine, and Sports 360 Newspaper and much more.
She is a proud member of the Get on track team since 2015.