Kinesio-Medical Taping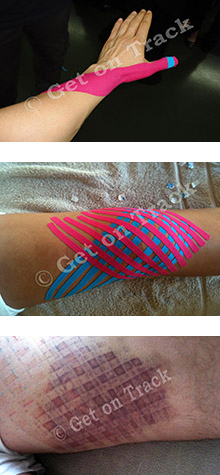 Kinesio-Medical Taping
Medical Taping concept application technique ( Kinezio – taping ) is a powerful additional tool used for many conditions  we treat here at Get on Track.
The Concept is based on the application of tape on the skin  in order to increase or decrease activities of the muscles, reducing pain, relaxation of tight fascia or help in lymphatic drainage to reduce swelling or faster resolving of hematoma.
Get on track is proud to have an international instructor in Medical Taping Concept, together with the rest of the Physiotherapists that are certified for this Treatment.
We are fully trained for a variety of treatments.
At our premises we use internationally attested tape ( Iso 2000) that provides maximum guarantee against allergies to glue that could potentially  arise.