Golf Fitness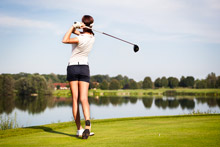 Golf Fitness
Golf is a game that requires high levels of skill, eye hand coordination, flexibility and mobility, muscular power, timing, strength, and endurance. During an 18-hole round of golf, the average male golfer will expend approximately 620 kcals of energy . This constitutes a moderate exertion physical activity and requires that golfers have at least moderate levels of aerobic conditioning, as well as muscular strength and endurance. Studies show that golfers who practice often can take as many as 300 swings per practice session, which requires key levels of flexibility in the hips, legs, and shoulders to be successful.
This means that golfers are repeatedly exposing their bodies to high levels of forces and loads, and do so while moving through a large range of motion. To do this safely, the body's musculoskeletal and metabolic systems must be properly trained and in balance to perform a mechanically sound swing time and time again.
At Get on Track we offer our clients Golf Specific Fitness program standardized by National Academy of Sports Medicine (NASM – US). Our certified Golf Fitness Specialist will provide you with full musculoskeletal assessment and target specific requirements of your whole body as a unit. Every person is different, and based on the principle of individuality, we are preparing our clients to participate safely in golf and create their program based on their needs, age, fitness levels, health conditions and so on.